Tobii pro Spectrum Eye Tracker, Screen Based Eye Tracking Device, Eye Tracking Hardware Reseller, Distributor in Mumbai, India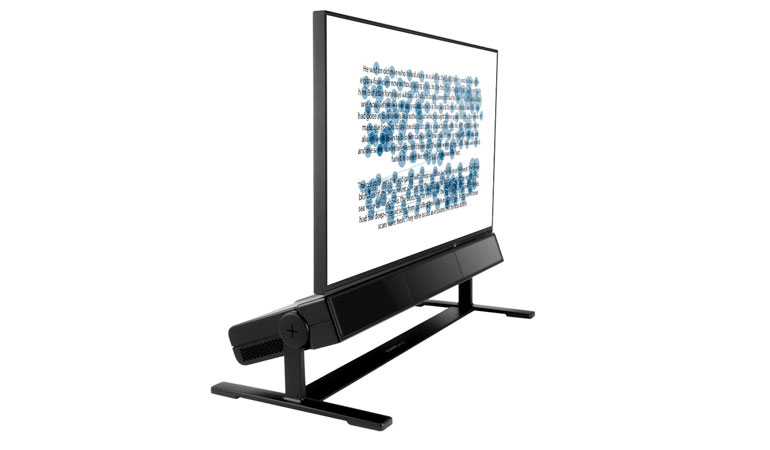 HIGH-PRECISION EYE TRACKING FOR
COMPLEX STUDIES AND RESEARCH
Very high frequency eye tracker, indicated for high performance in complex searches of human visual behaviour. Opening up new possibilities for studies in areas such as psychology, developmental studies, neuroscience, reading research and ophthalmology.
The Tobii Pro Spectrum is advanced Eye Tracker hardware designed for extensive studies of human behaviour and the mechanics of faster eye movement.

Capable of capturing data at high sampling frequency, with frequencies of 300Hz, 600Hz and 1200Hz in its models, while still allowing for natural head movement.
HARDWARE EYE TRACKER PREMIUM
The Eye tracker Pro Spectrum is designed to ensure the highest quality and reproducibility of data through Tobii's evolving, patented eye tracking algorithms, sophisticated hardware design and premium hardware components.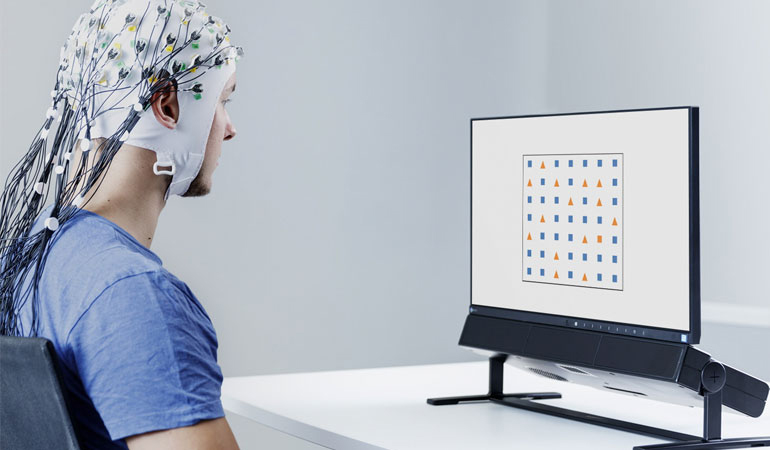 FLEXIBLE SYNCHRONIZATION OPTIONS
The Eye tracker Pro Spectrum offers exceptional flexibility, accommodating a wide variety of research scenarios and study designs. It can be used with the screen provided or just with the Eye tracker, allowing on-screen and real-world stimuli such as physical objects or people. Multiple sample rate options accommodate everything from fixation-based surveys to studies with more intense requirements on data granularity and time-based measurements.

Allows accurate synchronization of gaze information with data from other sources such as EEG, GSR or ECG.
UNMATCHED FREEDOM TO HEAD MOVEMENTS
The Tobii Pro Spectrum tolerates more head movement than any other high frequency screen-based Eye tracker on the market. With saccadic event resolution and extremely accurate data.

This unique combination of features allows researchers to deeply explore human behavior and cognitive processing, as well as the mechanics of faster eye movements (eg, saccades, tremors, and microcacades) without interfering with the subject's natural behavior.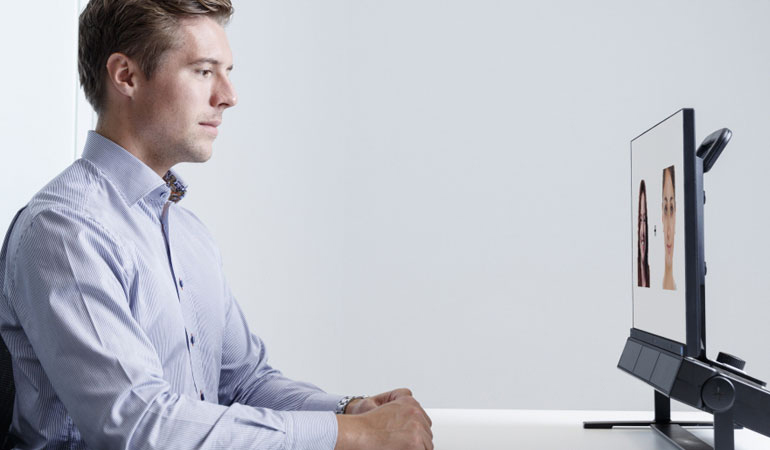 POSSIBILITY OF USE IN RESEARCH
WITH CHILDREN
With its ability to track subjects in free movement, the Tobii Pro Spectrum makes it easy to search with children and other participants who would otherwise need a chin rest to control their movements.
The Tobii Pro Spectrum uses the user-friendly Tobii Pro Lab software to support the researcher in the different phases of data collection and processing during an eye tracking experiment – from stimuli setup and test recording to metric data extraction , such as observation time, gaze recurrence, graphic maps, heatmaps, gazeplot, gazeopacity.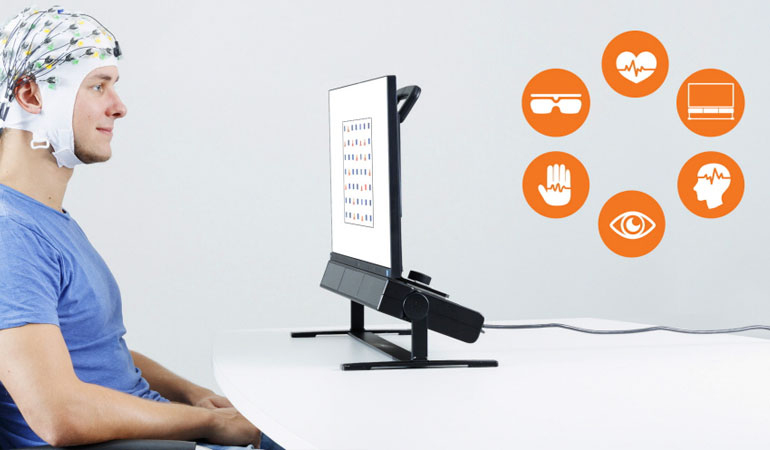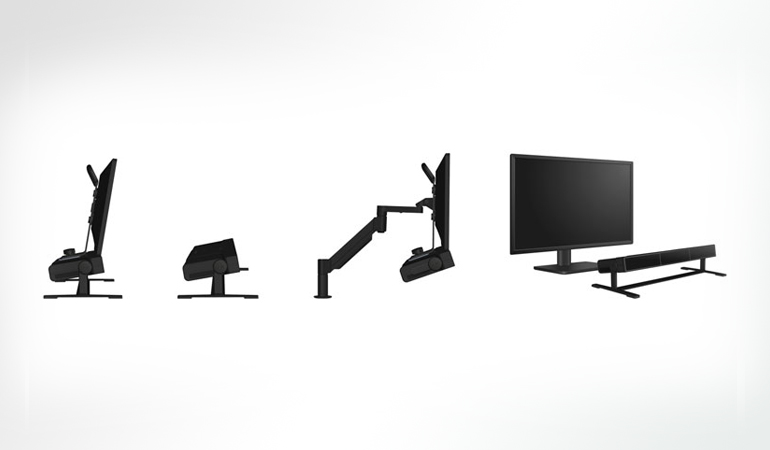 Fields of Use
• Academic Institutes • Neuroscience Researchers
• Psychology/Psychiatry Segment • Research with Children • Clinical Researc
Technical Specification
The Eye Tracker unit can be used in conjunction with the supplied monitor or alone with other real-world displays or stimuli. This unit, without the monitor, measures 55 cm x 18 cm x 6 cm (22" x 7" x 2"). The Eye tracker is mounted on a stand, which raises it from the surface by 9 cm (approx. 4")

Monitor
The 24" high resolution removable monitor accommodates on-screen stimulus display and has been carefully selected from a high quality display manufacturer to meet the highest demands in stimulus presentation.

A low and stable response time of less than five milliseconds makes it suitable for studies where control of the timing of stimulus presentation is essential. The IPS panel has a viewing angle of 178 degrees, which ensures a consistent experience of the presented stimulus, regardless of where the subject is positioned.

We recommend using this monitor, but optionally other monitors can also be used.
eye tracking technique

Binocular tracking of light and dark pupils. Two cameras capture stereo images of both eyes for accurate measurement of gaze and eye position in 3D space, as well as pupil diameter.

sampling frequency

60, 120, 150, 300, 600, or 1200 Hz (maximum frequency depends on product version)

Accuracy*

0.3° under ideal conditions (up to 0.16°)

Precision*

0.06° RMS under ideal conditions (up to 0.04°

Precision Filtering*

0.01° RMS under ideal conditions (up to 0.01°)

Freedom of head movement

Width x height: 34cm x 26cm
(13.5" x 10") at 65 cm

Total system latency

Less than 3 frames (less than 2.5 ms at 1200 Hz)

Blink recovery time

1 frame (immediate)

Data output (for each eye)

Timestamp
origin of the look
Point of view
pupil diameter

Eye image data stream

About. 10 Hz

TTL input stream

8-bit timestamp data (256 event codes)
• Tobii Pro Lab
• Tobii Pro Eye Tracker Manager
• Tobii Pro SDK
• E-Prime 3
• PyGaze
• Psychotoolbox
• Octave
• Any application built on Pro SDK