Shopper Research
Understand what influences shopper behaviour both online and in-store. Eye tracking reveals deep insights into what captures attention and drives decision making in the purchase process. Use these insights to tailor your path to purchase and increase conversions in a more effective way.
How eye tracking enhances shopper research?
Brands are increasingly turning to data to help drive business decisions but getting the right data can be more difficult than you think. Eye tracking delivers unique insights into shopper behaviour and gives a clear indication of what factors influence purchase choices by revealing visual attention and subconscious actions. This information allows you to make the most informed decisions on how you engage consumers and nurture their journey with your brand.
Your options for using eye tracking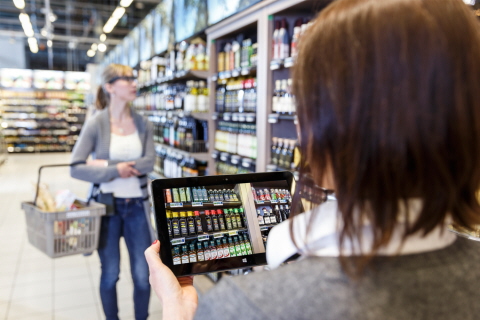 Observe shopper experience
Understand the shopper journey in more detail so you can give customers the experience they want. Eye tracking provides unique insights into how consumer engage with your store and products, helping you make changes to increase spend and satisfaction.

See the shopping experience from your customer's perspective.

The cognitive processes behind consumer behaviour are wide and varied and often occur on a subconscious level, so shoppers themselves aren't always aware of what motivates their buying decisions. Eye tracking reveals these behaviours and allows brands, retailers, and marketing researchers to get a deeper understanding of consumer actions.

By viewing the shopping experience through your customers' eyes, you can see what drives their decisions and profile shoppers based on individual behaviours or differences between categories using eye tracking and event logging.

Use eye tracking to learn :
• How shoppers navigate or browse the aisles of a store.
• What attracts attention at the point of purchase.
• What visual elements shoppers refer to at various stages of the decision process.
• Which visual elements are ignored.
• Which competitors are considered during decision making.
• How shoppers interact with products on the shelf.
Optimize the shopper journey
Explore the shopper's path to purchase and analyse what motivates buying behaviour with eye tracking. Dig deeper into the factors which inform and influence purchase choices and use this insight to optimize your conversions.

Understand the factors which influence consumer behaviour.

There are many touchpoints in a consumer journey and understanding how they influence shopper behaviour and purchase decisions is essential. Eye tracking research delivers this insight, firstly by giving you access to visual attention and indicators of decision drivers, and secondly, by allowing you to aggregate and analyse this data for multiple consumers to paint a clear picture of your customers' shopping behaviours and preferences.

Eye tracking helps you discover :
• How shoppers browse online or navigate store aisles.
• Which visual elements are seen or ignored?
• How long visual engagement with various elements lasts?
• Which design alternatives are more effective?